You definitely need to try nTask. Primarily an online task management software, designed and developed primarily for teams, this tool gives you all the options to live life as productive as it can be.
Loaded with a comprehensive and sophisticated feature set, this free productivity app presents itself with a simplified interface, easily learned and used by homemakers to freelancers and teams to enterprises to get more productive.
nTask is a simple all-in-one task and project management app that provides its users with comprehensive seven natively built modules including tasks, projects, risks, issues, and meeting management.
This means you don't have to juggle between multiple apps for getting things done hence making you more productive. These modules facilitate the teams to avoid paying for third-party integrations or constant switching between multiple tools for numerous projects and multiple workspaces.
You can keep notes and use it as a simple to-do list app or create an idea or chore as a task. It helps you to create projects and assign multiple tasks to them. This helps you to easily track ideas, monitor task status, and project progress through Gantt charts.
Plus, with resource planning and budget allocation, you can keep your teams productive and project implementation effective throughout the project development cycle.
According to Lucid Agency – an award-winning agency specializing in digital marketing, advertising, and user-focused web & app design, "This is a great option for small development teams that have a need for free bug-tracking or task assignment."
This top Productivity app also helps you stay in sync with updates and keeps you and your team on track through reminders and alerts.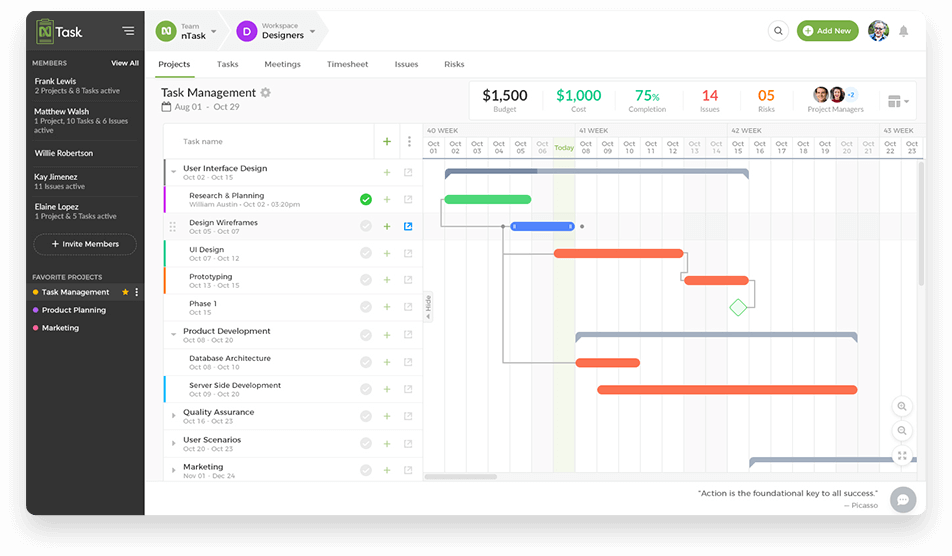 Key Features:
With so many features nTask has to offer, here is a glimpse of its key features:
Two-Factor Authentication for extensive security
A simple user interface with access to a wide range of modules.
Team specific workspaces that can be managed and monitored simultaneously.
Create, assign, organize, prioritize and share tasks
Create and assign projects
Comment on and assign tasks to projects or structure them independently
Convert comments to tasks using Slack
Select from multiple statuses for a task
Extensive project management resources including project reports, Gantt charts, and project timelines to manage and monitor project progress
A dedicated timesheets management and time tracking module with the option of creating and managing team-specific sections for employee task efforts and payroll.
A detailed meeting management feature to help teams stay in sync. You can arrange and schedule meetings, be it one time or recurring meetings. Plus, it lets you send invites to attendees, add meeting details, and specify follow-up procedures.
Issue management module to facilitate the identification and listing down of issues related to multiple tasks. You can list the issue along with the Issue owner and relevant details to track issue maintenance.
Risk management helps you identify and keep track of potential risks. You can list down the risk and assign a risk owner in order to track risk management.
Powerful search and filter tools that help you search for tasks, projects, meetings, issues, and risks. You can even save more frequently used filters.
Alerts, notifications, and reminders to keep teams on track.
Third-party access
nTask is one of the best iPad Productivity Apps and Best Android Productivity Apps
Pricing Plans:
Free and Pro (starting at $1 per month per user with annual billing) plans.
Notable mentions:
nTask is ranked #3 on Techworld's list of the Best Free Project Management Software.
Skyrocket team productivity with nTask, it's free! Manage all your tasks, projects, meetings, timesheets and more in one place. Sign up today!
Best Productivity App for Task Management
was last updated
May 2nd, 2021
by