CRM belongs on your PC
When a customer calls, how fast can you search, view, write and schedule?
On Premise database with Mobile Phone Sync
DejaOffice installs on your local PC. That means it is lightning fast to load and see your data. You can use a shared database with everyone in your office. Add notes, schedule followups, and assign tasks.
Integrated with Outlook
Outlook Plugin brings CRM to your Inbox
Share Contacts with the whole office
Tasks, Notes and History
Use Color categories to show Customer Type
Tech Specs
Works on Windows 7, 8 and 10
Simple to use. Lightning fast.
Single user or Multiple-User
14-Day Free Trial
DejaOffice PC CRM Version
Standalone
Google
for Outlook
Express
Pro
One-Time-Purchase Price
$49.95
$49.95
$99.95
$129.95
$199.95
USB, Wi-Fi, Bluetooth, DejaCloud Sync
✔️
✔️
✔️
✔️
Contacts, Calendar, Tasks, Notes
✔️
✔️
✔️
✔️
✔️
History, Deals
✔️
✔️
✔️
Smartphone Dialing
✔️
✔️
✔️
✔️
Query Filter
✔️
✔️
✔️
Outlook Add-In
Import from Outlook
✔️
✔️
✔️
Import from Act!, GoldMine
✔️
✔️
Multi-User Calendar
✔️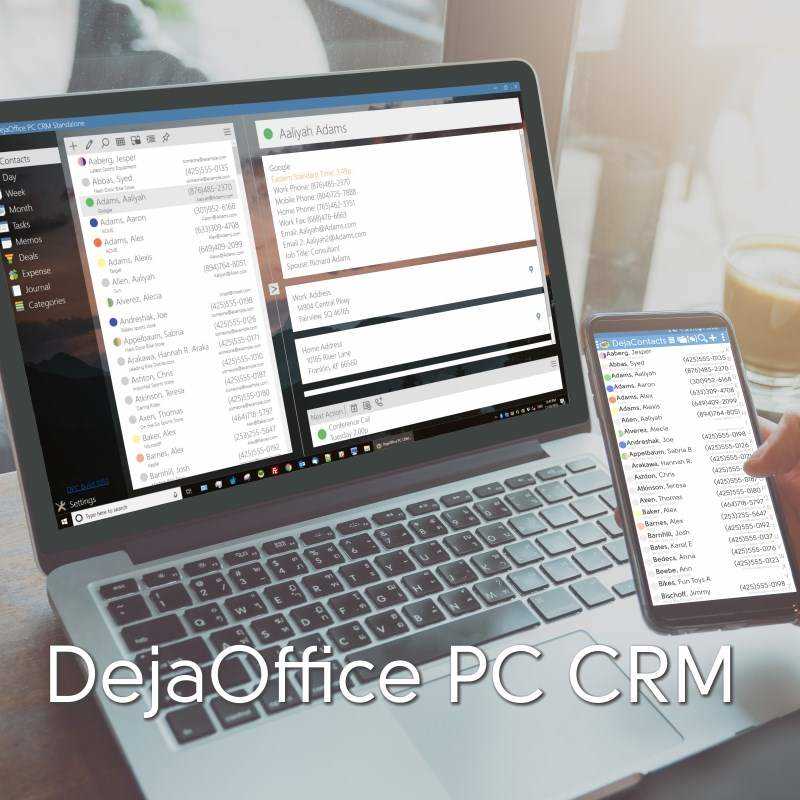 DejaOffice PC CRM
Works on Windows 7, Windows 8 and Windows 10
Brand new in 2019
Buy it once! Lifetime downloads for the version you buy.
Simple to use. Lightning fast.
Purchase DejaOffice PC CRM from CompanionLink. Set your data source to import. Sync. All your PC Data will be in DejaOffice.
Quick Guide to DejaOffice Versions
DejaOffice PC CRM Standalone
Easy to Pull Data from DejaOffice on iPhone and Android
Sync using Secure USB, Wi-Fi, Bluetooth or DejaCloud
$49.95 for perpetual license
Check out: Standalone CRM for your PC
Replace Palm Desktop with DejaOffice PC CRM
Easy import for all your Palm Desktop data
Integrate to DejaOffice on iPhone and iPad
Sync using Secure USB, Wi-Fi or DejaCloud
$49.95 for perpetual license
Check out: Replace Palm Desktop wih DejaOffice
Put Google Calendar on your Desktop
Keep Google Calendar Pinned to your PC
Make new Appointments and Tasks on your PC
Any changes you make go to Google
$49.95 for perpetual license
Check out: DejaOffice PC CRM for Google
Full CRM with Email and SMS History
Accounts, History, and Sync with Act! and GoldMine
History Scan function to make Email into Contact History items
Synchronize directly from DejaOffice to your Android and iPHone
Sync using Secure USB, Wi-Fi or DejaCloud
$129.95 for perpetual license
Check out: DejaOffice PC CRM Express
Multi-User CRM using DejaOffice PC Pro
Use DejaOffice PC Pro to manage multiple user Contacts and Calendar scheduling
Sync using Secure USB, Wi-Fi or DejaCloud
$199.95 for five-users - perpetual license
Check out: DejaOffice PC CRM Professional
Last modified: May 29, 2020 4:03 pm