DejaOffice is our robust suite of calendar, contacts, tasks and notes apps for Android. We've been hard at work adding a multitude of features that you can leverage to increase productivity and complement your workflow. To better showcase these features and how they can be used, we're proud to introduce the new DejaOffice Classroom.
The Classroom contains a guided walkthrough that will show you how to take advantage of everything DejaOffice has to offer. Some of the features you'll find in the DejaOffice Classroom include:
How to Install DejaOffice
Import data from the native Android databases
Filter your Contacts by Category
Schedule a New Event with a Contact
Sort your Tasks by Priority, Subject, or Due Date
Manage Categories and assign colors
Search all DejaOffice data from one query
Add DejaOffice Shortcuts to your Android Desktop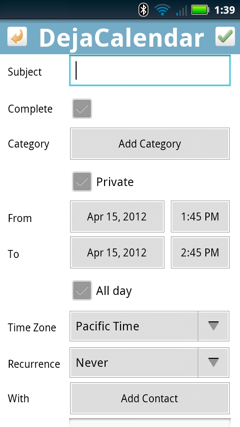 DejaOffice is available from the Android Market at no cost, and is compatible with the HTC EVO, Motorola Droid, HTC Droid Incredible and other Android phones.
Maximize your productivity with DejaOffice – Contacts, Calendar, Tasks and Notes Apps for Android
was last updated
May 9th, 2011
by