Print This
Sync Windows Outlook with Your Android Phone and Tablet
The most complete sync for Outlook contacts, calendar, tasks, notes, categories, reminders, task priorities, journal, and contact photos.
What makes our software unique
Supports contacts, calendar, tasks, notes
Full support for Categories and colors
Works with Android's Caller ID, email, maps
USB, WiFi, Bluetooth, DejaCloud, and Google sync
Full contact notes, contact pictures, alarms
Automatic data encryption on device
Free US-based telephone support
Helpful Resources
How our synchronization works
Get Outlook-like productivity from your Android phone or tablet. CompanionLink installs on your PC and works with our DejaOffice app for Android to sync Outlook with Android phones and tablets. Scroll your contact list with company name and phone numbers visible on the list screen, sort by the File As field, map Outlook categories with matching colors, link calendar appointments to your contacts, set alarms and reminders and much more! These are some of the many Outlook features you can get on your Android.
If you want to sync to Android's pre-installed Contacts and Calendar apps instead of using our 4-star DejaOffice Android app, click here.
Get
CompanionLink for Outlook
If you will sync using USB or WiFi, purchase a One-time License.
If you will sync using DejaCloud, purchase a Subscription License.
Buy One-time license
$49.95
Buy 3-month subscription
$14.95
We can set up your Android Outlook Sync for you.
Add our $49 RunStart package to your order.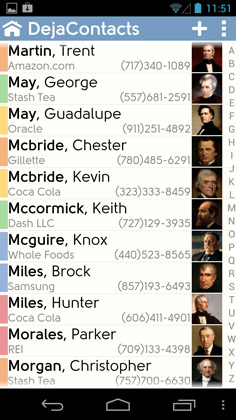 The DejaOffice app encrypts and holds your Outlook data and offers an Outlook-like experience on your Android. Modules for Contacts, Calendar, Tasks, Notes, Journal, and Category Management are integrated into one app. DejaOffice works with Android's Caller ID, phone dialer, GPS, email, and text messaging apps.
What others are saying
"I use CompanionLink..."
Tim Ferriss, Author of 4-hour workweek
"...smooth, reliable and quick syncing ... you don't need a degree in computer engineering to set it up."
Marc Saltzman, USAToday.com
Outlook data you can sync to Android
Contacts

Outlook Contacts sync to DejaContacts
Names, addresses, phone numbers, email addresses
Outlook categories and colors sync to Android
Contact notes
Birthdays
Contact photos
Up to 9 custom fields

Calendar

Outlook Calendar syncs to DejaCalendar
Day, Week, Month and Year views
Recurring and all-day events
Alarms/reminders
Busy/free flags
Accepted meeting invites (with list of attendees)
Multiple Outlook calendars (Requires CompanionLink Pro)

Categories

Outlook categories (contacts, calendar, tasks and notes) with colors sync to DejaOffice

Tasks

Outlook Tasks sync DejaTasks
Task priorities
Recurring tasks
Due dates
Complete tasks on Android
Supports Getting Things Done, Franklin Covey, and Take Back Your Life formats

Notes

Outlook Notes sync to DejaMemos
No character limit lets you edit and store long notes

Journal

Outlook Journal sync to DejaJournal
Supported versions of Outlook
Outlook 2016, 2013, 2010, 2007, 2003, 2002, 2000
Office 365
Outlook Business Contact Manager 2013, 2010, 2007
32-bit and 64-bit versions
Supports MS Exchange Public Folders visible in Outlook
Supports iCloud folders visible in Outlook
Supports Outlook.com and Microsoft accounts
(formerly Windows Live Hotmail)
Office 365 secure USB sync for Outlook 2013
Supported versions of Android OS
Android OS 1.6 and higher

Lollipop (5.x)
KitKat (4.4.x)
Jelly Bean (4.3.x 4.2.x and 4.1.x)
Ice Cream Sandwich (4.0.x)
Honeycomb (3.0)
Gingerbread (2.3.x)
Froyo (2.2.x)
Eclair (2.0, 2.1)
Donut (1.6)
Supported versions of Windows OS
Windows 10 (32-bit and 64-bit)
Windows 8.x (32-bit and 64-bit)
Windows 7.x (32-bit and 64-bit)
Windows Vista (32-bit and 64-bit)
Windows XP / 2000
RunStart configuration service
Have our experts set up CompanionLink with your Android!
Schedule an appointment and a setup expert will securely log in to your PC and get everything working.
RunStart costs $49 and can be added during your order. Buy CompanionLink with Runstart.